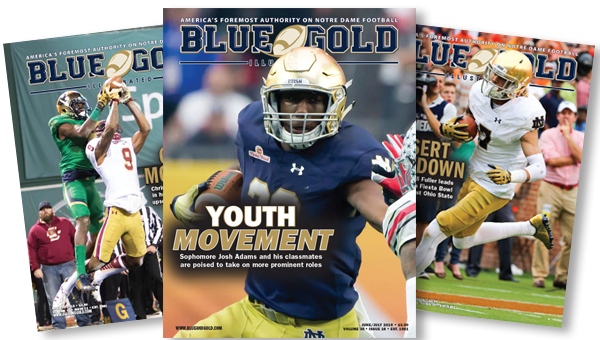 Blue & Gold Illustrated
The largest college sports magazine dedicated to one particular school, provides an uncommon perspective on Notre Dame football, basketball, recruiting and sports coverage.
Blue & Gold Illustrated covers all sports at Notre Dame with an emphasis on football, basketball and recruiting. The magazine is published weekly during football season and monthly during the off-season for a total of 20 full-color issues annually.

Eliminate the wait for postal delivery! The electronic edition of Blue & Gold Illustrated is INCLUDED with your paid subscription to the magazine. It has the same great content as the print version plus interactive features and videos to enhance the digital experience. Simply click the issue that you would like to read, and then login with your subscription account number and last name. (Need help? Click here!)
Subscribe to BGI
You can also subscribe by calling us at 1-800-421-7751 to sign up with a credit card, or mail a check/money order for $52.95 to: Blue and Gold Illustrated, Circulation Dept., PO Box 2331, Durham, NC 27702
Click here to order or renew!
Blue & Gold Illustrated Magazine Issues
(Click the cover to log in and read that issue!)