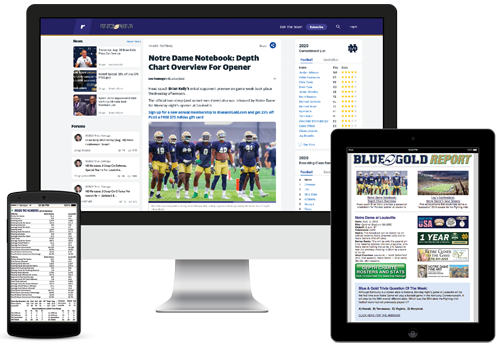 The Blue Gold Report, a weekly e-newsletter exclusively for subscribers of Blue & Gold Illustrated, has everything you need to know before the game! This online publication is INCLUDED with your subscription to Blue & Gold Illustrated Magazine!
2020 Issues Of Blue Gold Report
To our readers: Notre Dame's Sept. 26 road game at Wake Forest has been canceled for COVID reasons and rescheduled for Dec. 12. We will not publish Blue & Gold Illustrated this weekend. October 3 is an open date on the Irish schedule and we will not publish an issue that weekend. However, we will send out an issue at the end of next week, which will include a preview of the Oct. 10 contest with Florida State. The next issue after that will be mailed on Sunday, Oct. 11, covering the game with the Seminoles.