Welcome to the Notre Dame Gift Shop!
This is the site to start or renew your subscription to Blue & Gold Illustrated magazine and purchase Notre Dame merchandise. Magazines, single issues and football preview magazines are available for delivery within the U.S. and around the world. However, all other merchandise is limited to delivery within the U.S.
2018 Notre Dame Football Preview Magazine
6059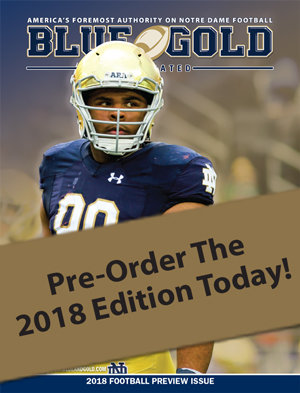 160 full-color action-packed pages of Notre Dame football information: a must-have for the 2016 season! Position Analysis, Opponent Previews and much more!
Brand:
Blue and Gold Illustrated
Coman:6059
Shipping Options:
U.S. FREE Economy Rate (0) U.S. First Class (4) Canada (5) Mexico (10) All Other Countries (12)