BGI April 2019: Spring Practice Overview
6001-3816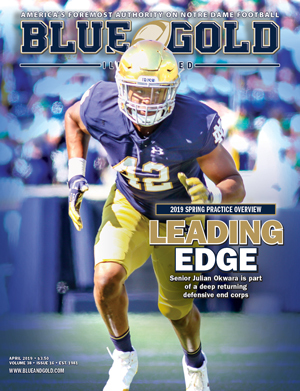 Spring Practice is Underway at Notre Dame!
This issue of Blue & Gold Illustrated
, which features senior defensive end Julian Okwara on the cover, provides an overview for what to expect from the Fighting Irish football program during spring practice. This edition also includes:
An updated scholarship depth chart
Previews for each position group
Features on each side of the ball
Recruiting coverage, including profiles on the two most recent football commitments
Updates on the basketball programs

Plus much more!
Brand:
Blue & Gold Illustrated
Coman:6001-3816
Delivery Options
U.S. First Class (0) Canada (2) Mexico (4) All Others (6)