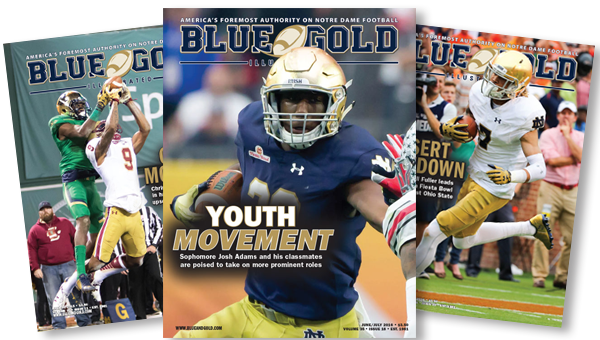 A full-color magazine, published 20 times per year, that covers Notre Dame's football, basketball, and recruiting.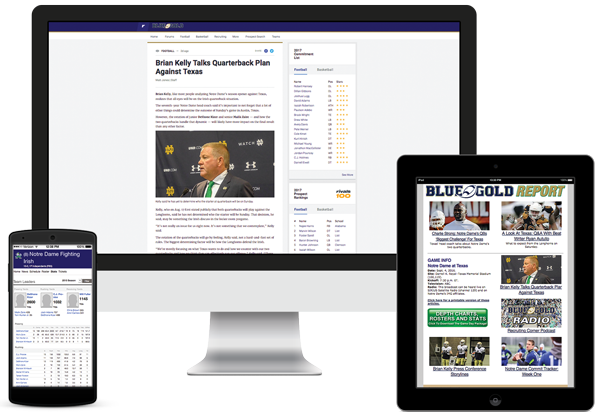 Blue Gold Report, a weekly e-newsletter, has everything you need to know before and after the game! This online publication is INCLUDED with your subscription to Blue & Gold Illustrated!
Blue & Gold Illustrated has been America's foremost authority on Notre Dame sports since 1980.
A letter from the publisher to our readers: We want to apologize for the poor delivery of Blue & Gold Illustrated some of you are receiving. The magazine is completed by 10:00 a.m. on Sunday mornings and delivered electronically to its printer, The Papers in Milford,...
read more
Recent Editions Of Blue Gold Report
No Letdown Expected From Notre Dame Against Pittsburgh
Brian Kelly has a rebuttal for every "excuse" the Irish might have versus the Panthers.
Brian Kelly Previews Top-25 Matchup Against Virginia Tech
The Irish head to Blacksburg on Saturday to face the No. 24 Hokies.
Brian Kelly Previews Stanford
The Irish aim to end a three-game losing streak against the Cardinal.