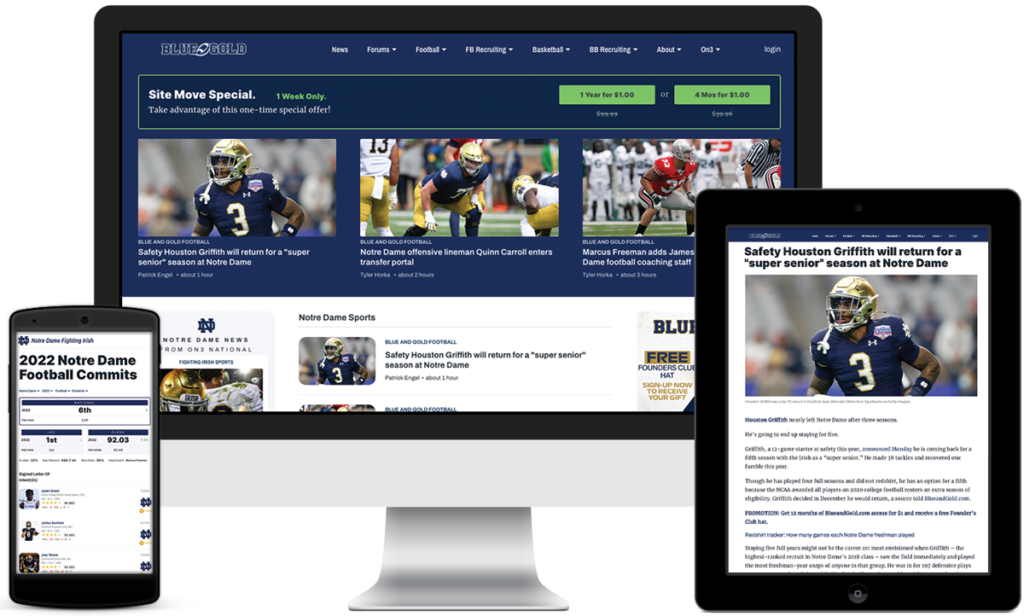 BlueandGold.com, a market leader in Notre Dame football and basketball content and football recruiting coverage, joined the On3 network on Jan. 1, 2022.
Led by a talented team of Notre Dame sports and recruiting insiders combined with the innovation, vision and leadership of On3, BlueandGold.com offers fans breaking news, inside scoop, game analysis, unmatched recruiting coverage with the top prospect database in the market and unlimited access to the best Fighting Irish message board community on the internet.
*NOTE: BlueandGold.com is NOT included with a subscription to Blue & Gold Illustrated magazine.
Some of the perks that website members can look forward to include:
A discount on our annual 160-page, full-color football preview magazine, published in July each year.
Access to our daily headlines and breaking news emails. Sign up for our breaking news email alerts and get the most important news delivered directly to your inbox. Never be left in the dark, no matter how much you have going on. Click here to get on the list!
A staff you know and trust. Our entire group of writers at Rivals made the move to On3 with us, including Mike Singer, a seasoned reporter who travels across the country to bring you the latest recruiting info; beat writers Patrick Engel and Tyler Horka, who work tirelessly to deliver you excellent coverage of Notre Dame football, basketball and women's basketball; and Todd Burlage, a veteran reporter who provides a unique voice in covering ND athletics.
Their coverage includes Mike's Gold Standard each Monday, a weekly inside look at the state of Notre Dame football recruiting, and his daily Lucky Charms nuggets on the Irish's recruiting efforts; Patrick's Five For Friday, his thoughts on ND sports; and Tyler's Mailbag, where he answers your questions about Fighting Irish sports.
DON'T DELAY! SIGN UP TODAY FOR JUST $29.99 AND GET FULL ACCESS UNTIL 8/31/23!
Go Irish!
Sign up for daily headline updates and breaking news alerts!
Join thousands of Irish fans and stay up-to-date with our free emails.

Note: the daily headline and breaking news alerts are for our premium news site. While some content is free, other content may be premium and require a membership to BlueandGold.com. Sign up for just $29.99 for access until 8/31/23.